In the new app.spidertrack.io website you still get all of the features and functionality you're familiar with in go.spidertracks.com plus a whole lot of useful new features and improved performance summarised below.
Navigation Menu Changes
A = User Settings
Your user settings have moved to the top right-hand corner of the website. From here you can access Personal Settings, Support and Logout of the website
B = Organisation Settings
Your organisation settings have moved up in the left-hand navigation menu represented by the cog icon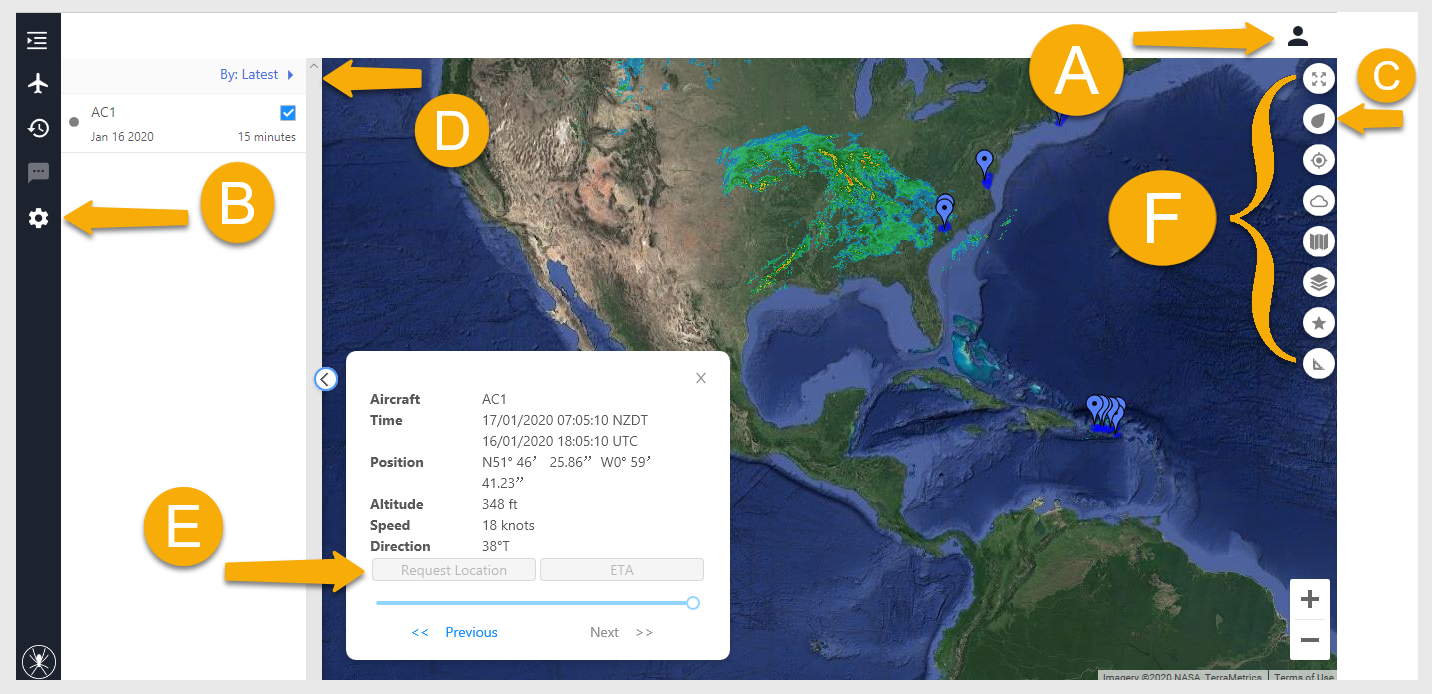 Flying Page Updates
C = Track Display
You can now select from two distinct styles for displaying tracks:
Show last point - shows only the last reported location for each aircraft on the flying page
Show full track - shows the last reported location for each aircraft, as well as a red line that shows the flight path with any key events such as Watch, Mark, Speed Up, Slow Down, SOS etc along the track
Please Note: When you select an aircraft on the flying page its associated track will change colour to blue.
Aircraft List
D = Aircraft List
The aircraft list has also been simplified:
The aircraft list filter options are now located in a dropdown menu at the top of the aircraft list
You'll no longer see the first point, last point or other events when you select an aircraft or track. These events will instead appear along the track displayed on the flying page
Point Information Panel
E = Point Information Panel
The Point Information Panel functionality has been extended:
The ETA and Request Location buttons are now located here
We've also added additional track navigation controls that allow you to:

Jump to the first point in a track
Jump to the last point in a track
Use a slider to quickly navigate to any point in a track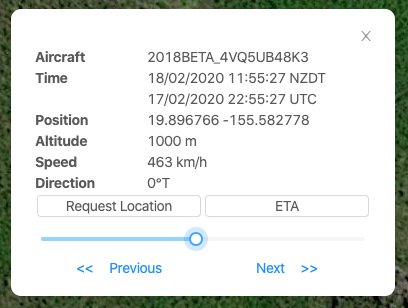 The map controls menu has been relocated from the top left-hand corner of the flying page to the right-hand side.
New Flying Page Features
F = Flying Page Features
Weather overlays - Allows you to add real-time weather layers to the flying page
Favourites - Allows you to save map locations so that you can quickly navigate to points of interest
Distance Measurement tool - Allows you to measure any distance on the map