What is Spidertxt?
Spidertxt 2.0 is a two-way operational messaging tool which allows aviation businesses to stay connected to their aircraft and people, no matter where they are in the world. Spidertxt is person-to-person communication through either desktop or mobile devices that provides simple and reliable communication anywhere in the world.
Download these instructions at the bottom of the page.
Enabling Spidertxt
Login to app.spidertracks.io
Click on 'Settings' on the bottom left side of the 'Flying Page'
Click on 'Manage' on the center of the screen
On the left side, click on 'Spidertxt'
Click 'Enable' on the center of the screen.
Everyone in your organisation will be able to use Spidertxt immediately through the website and through their mobile applications.
The trial will turn into a paid subscription after 30 days if not deactivated.
Download the Applications:
iOS - Search for Spidertracks in the App Store
If you do not have an account at app.spidertracks.io you will need to get your administrator to invite you as a member to the organisation.
In iOS, if prompted, you need to allow Spidertracks to send you push notifications. To check push notifications are enabled, go to your phone settings, notifications and tap on Spidertracks.
Using Spidertxt
Website
Go to Spidertxt from the main menu. Any members within your organisation that have signed up an account will be listed on the Spidertxt page.
Click on a member to view recent history, scroll back through messages, or send a new message.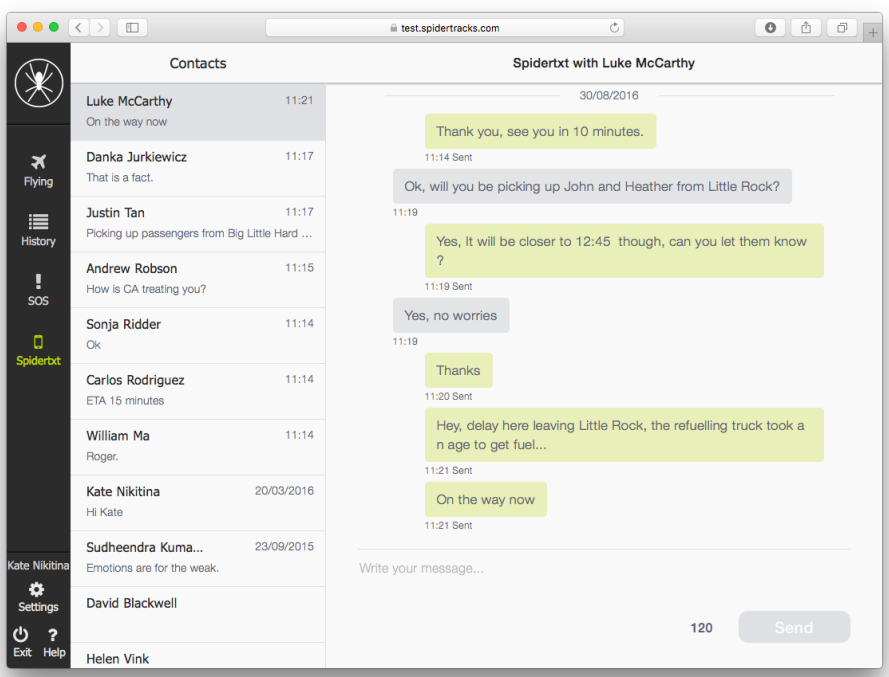 Notes
Message length is limited to 120 characters.
A notification will be shown on the menu sidebar if unread messages exist.
iOS App
Login to the Spidertracks application with your Spidertracks email and password
Tap the main menu slider at the top left of the application and select Spidertxt
Spider 6, Spider 7 or Spider 8 connection: The first time you connect to a Spider 6, Spider 7 or Spider 8 you will need to manually connect. Please follow these steps:

Please go to your iPhone settings and make sure that Bluetooth is enabled, please do NOT pair at this stage.
Open the Spidertracks app, tap the main menu slider at the top left of the application and select Spidertxt.
Click on Connection on the bottom menu. Your Spider will show in the list of Spiders, click Connect. The connection may take a few minutes depending if the Spider has clear view of the sky. The next time the Spider powers up within Bluetooth range (10m) to your phone, with the application open, it will automatically attempt to connect.
Then click on New Message and you will be able to see your account members that have already signed up.
Spider 4 or Spider 5 connection: If you are connecting a Spider 4 or Spider 5 you will need to connect to the Spider every time. In the connect page, tap Search for a Spider 4 & 5, then tap on the Spider within the list to connect.
You need a good view of the sky during this connection process. Once connected the connection status bar on the messages page will turn green.
Write a new message by clicking on the new message icon, or from the message history screen, tap on an existing conversation to send another message.
People on the ground can also send and receive messages when not connected to a Spider, through Wifi and cell data. If you do not want to use cell data to send messages, please turn this off in settings.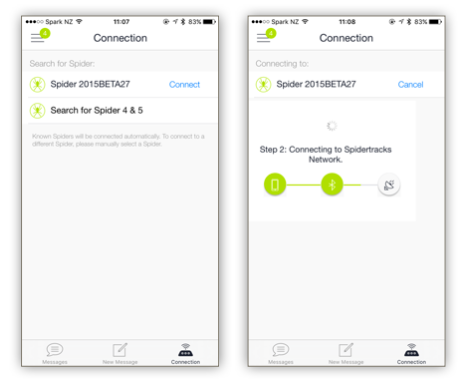 Notes on Enabling Spidertxt
When you enable Spidertxt 2.0 all members of your organisation will be notified about the one month free trial.
After the free trial you will be invoiced for Spidertxt if it is not disabled by an administrator.
Everyone using Spidertxt must have an account at app.spidertracks.io and be a member of your organisation in order to send and receive messages to and from other members of your organisation.
Pricing
Spidertxt 2.0 is USD 15.00 per aircraft per month which gives you unlimited messages between anyone in your team. Note, this is charged for all aircraft registered on your account even if the Spider in the aircraft is not capable of connecting to an iPhone, iPad, or iPod. Please email us at support@spidertracks.com for special upgrade options to get the latest Spider for your aircraft.
****
Restrictions
Some restrictions of this are:
Text to email or SMS recipients is not supported; you are only able to send to members of your organisation
Characters must be ASCII only, accents and emojis are not supported
Sharing an account (base-pilot) is not feasible, this has compatibilities restrictions with the Spidertxt service.
If you are going flying and require to use Spidertxt, please make sure that you are logged out from all other devices (such as the Spidertracks website), before connecting your smartphone or tablet to the Spider.
Hardware Supported
Spidertxt 2.0 is compatible with iOS (Apple iPhone 4S and newer, iPad, iPod Touch running iOS 10 or later. The handset or tablet must have Bluetooth.
Spider 8
Spider 7

Spider 6

Spider 5

Spider 4**
All Spiders must have the latest version of firmware. Please contact support@spidertracks.com if you are unsure of your firmware version.
** Early versions of Spider 4 are not compatible with iOS. If you have a Spider 4 and are unsure whether or not you are iOS compatible, please contact us at support@spidertracks.com.
Only the latest version of browsers are supported, excluding Internet Explorer 11.
You can find find a downloadable PDF version of Spidertxt 2.0 User Guide at the bottom of this article.