Some firefighting contracts require greater information than basic position reporting. Additional information includes bucket/tank open and close, engine on/off, takeoff/landing amount of suppressant dropped.
For our customers in the US who require this additional information, Spidertracks is able to provide the option to use an ATU which integrates with the S8.
The ATU is essentially and considered 'plug & play' with the Spider 8. There is no additional configuration required on the Spidertracks website (event configuration is used for the separate GPIO cable, not for the ATU).
Events generated by the ATU when plugged into the Spider 8 will be sent to the Spidertracks platform and will show up as additional information in the point information panel under Description, as well as in the Description column when the track is downloaded as a .csv file, and they will also be visible for AFF API consumers in the point data.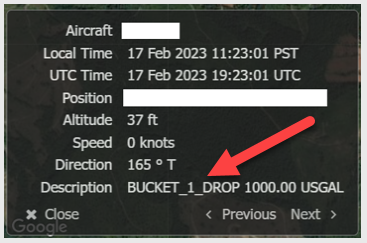 Please Note:
- The OAS ATU plugs into the Spider 8 via the USB port meaning the Spider's keypad must be removed