Parameters such as roll and pitch are used to create exceedance events. You can define the threshold at which an event is generated for your organization so that the insights we reveal are as relevant as possible to the way you fly.
Configuring Safety Events
To set up your safety events in the Spidertracks Platform
1. Select the 'Admin' cog in app.spidertracks.io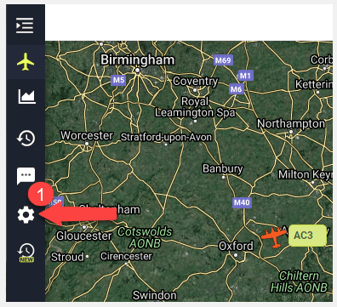 2. Open the organization drop-down menu at the top of the menu and select the organization you wish to configure events for.
3. From within your organization settings pages, click 'Events' on the left-hand menu.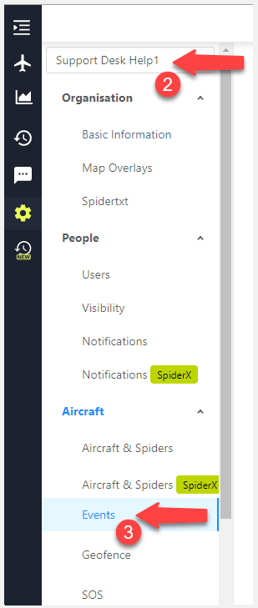 On this page, you will see a table with the available Safety Event types. Each row in the table represents a different type of Safety Event. They will have default thresholds specified that you can tailor to your organization.
4. Click 'Add' then a form will appear as a panel on the left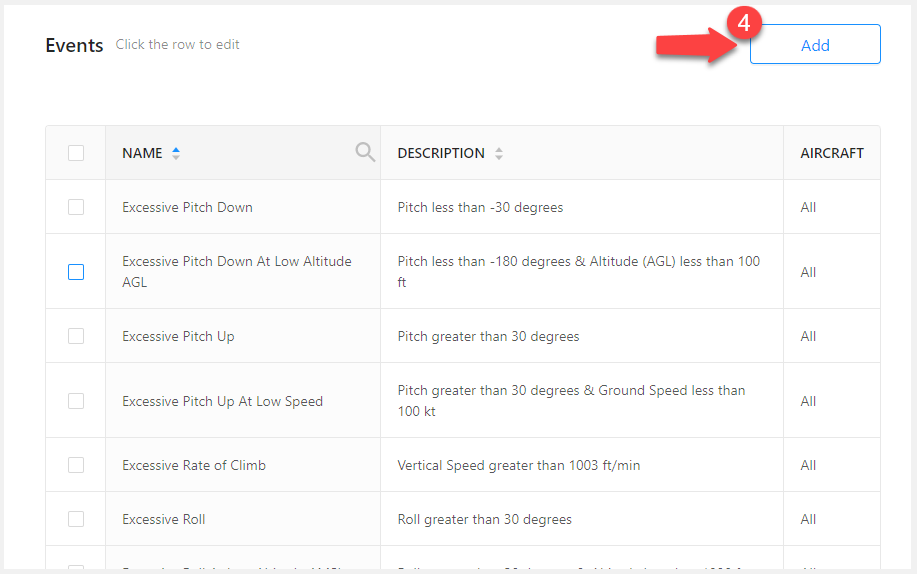 5. Select an Event Type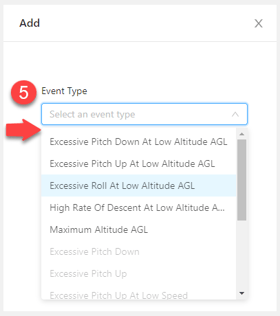 6. Select the aircraft you want to apply the event setting to.
Please Note: An aircraft can only be added to one event for the same Event type.
If trying to select an aircraft that is already included in an event for the same event type, the aircraft will be unavailable and will be grayed out.
Hovering over the grayed aircraft will display a message for why it is not available.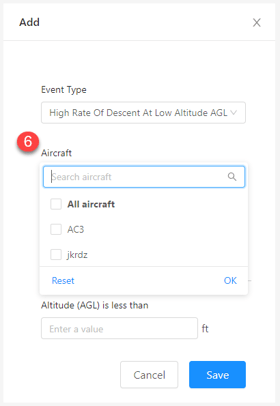 7. Enter the thresholds you want to set for each parameter
8. Click Save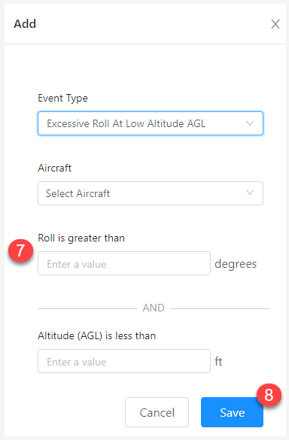 8. The event rule will be saved and appears in the table

To Delete an Event
1. Select the relevant table row(s) by clicking the checkbox
2. Click the delete icon that appears above the table on the top-right

The list of events that you can currently use are:
Excessive Roll
Excessive Roll at low Altitude AMSL
Excessive Roll at low Altitude AGL
Excessive Pitch Up
Excessive Pitch Up at low Altitude AGL
Excessive Pitch Up at low Speed
Excessive Pitch Down
Excessive Pitch Down at low Altitude AGL
Excessive Rate of Climb
High Rate of Descent
High Rate of Descent at low Altitude AMSL
High Rate of Descent at low Altitude AGL
Max Altitude AMSL
Max Altitude AGL
If you would like us to develop more events, please send your feedback to us.
For more help setting up and configuring Insights, or if you would like us to develop more events, please email your feedback to support@spidertracks.com