Plan explanations are as follows.
Spidertracks now offers the following pricing plans; these plans are made for our recreational flyers through to our commercial fleet customers.
Each Spider in an organisation's account will have its own plan and each plan comes with its own benefits.
The following is a breakdown of each of our new plans: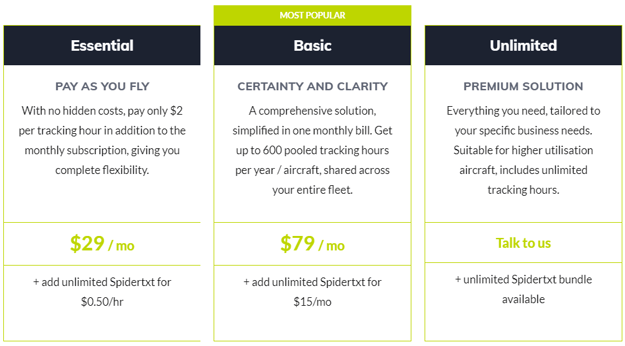 Essential
The Essential plan is best suited for recreational and seasonal operators. The plan supports Virtual FDR tracking and has a USD $29.00 fixed monthly cost plus an additional USD $2.00 per tracking hour. You can add unlimited Spidertxt to the Essentials plan for an additional USD $0.50 per tracking hour.
The Essential plan is billed for actual Spider usage based on the time that each spider is powered on and powered off, in each billing period.
If your aircraft fly more than 25 hours a month/300 hours per year then the Basic Commercial plan may be a more suitable plan.
Commercial Plans
Basic & Unlimited
Our commercial plans come with 'pooled hours', meaning that if one of the aircraft in your fleet does a greater amount of flying than another, it can borrow the hours from the less active Spider to supplement its flying.
For example, if you have 2 Spiders on the Basic plan at US$79 this means that monthly you will be paying US$158 and the total pooled hours for the year will be 1200 hours.
The monthly cost and annual hours for each of the plans are as follows:
| | | |
| --- | --- | --- |
| Plan | Cost per month, per Spider | Included flight hours per year |
| Basic | US$79 | 600 |
| Unlimited | Talk to us | Unlimited |
Commercial Pooled Plans are billed for actual Spider usage based on the time that each spider is powered on and powered off, in each billing period.
What Happens If All the Data Is Used Up?
If an organization consumes its entire shared data pool within the 12-month plan term, overages charges apply at the standard rate of US$2.00 per hour, any overages will also be displayed in the monthly invoice sent to the designated members of your account.
All our plans now include a new Usage Details section in each monthly invoice, this provides visibility over the total data consumption, as well as showing a per Spider breakdown of usage.
We can not suspend Spiders on our Commercial Plans due to the plan having pooled hours across the fleet, meaning that if you don't fly, the allocated hours can be carried over to the next month, and can be used by the other Spiders in your fleet.