Adding aircraft and Spiders can be completed under Aircraft Settings.
To add an Aircraft and Spider to your account, please follow the below guide:
1. Select the 'Admin' cog in app.spidertracks.io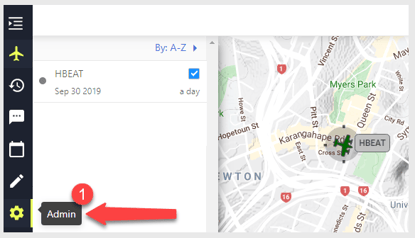 2. Select the organisation you wish to manage visibility for
3. Click 'Aircraft Settings' on the left-hand menu.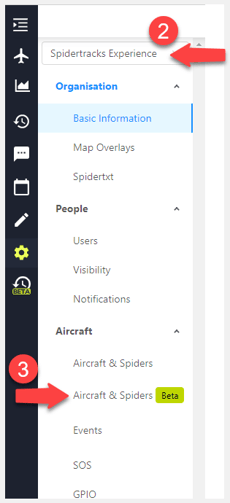 This will take you through the Aircraft & Spiders Settings Page. This page allows administrators to get a full overview of the registered aircraft, the Spider types, serial numbers and model types and allows easy management of the account.
4. Click Add, the Aircraft Settings Menu will on the right of the page

5. Add the Aircraft you wish to assign the Spider to (or click Skip located at the bottom of the page)
Please Note: Options marked with a * must be filled out.
A. Add a custom name or a aircraft tail number
B. Add type of aircraft either fixed wing or rotary
C. Change the aircraft icon displayed on the flying page
D. Change the aircraft flying page icon colour of your aircraft that is displayed
E. Click Next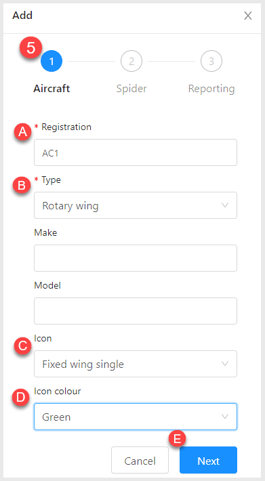 6. In this menu, you can add the Spider
A. Enter the 10-character serial number from the underside of your Spider or select the Spider from the drop down menu
B. Click Add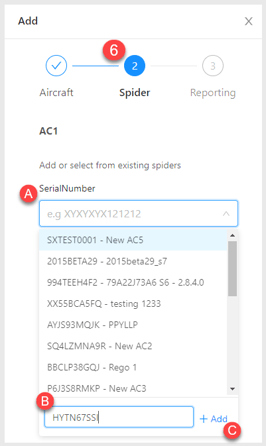 7. In this menu, you can add the Spiders Reporting Rate
A. Displays the aircraft registration that has been selected to update the Spider settings
B. Allows changes to the Reporting Interval
C. Allows changes to the Heading Change
D. Allows changes to the Rate of Descent (ROD)
E. Allows changes to the Rate of Climb (ROC)
F. Click Save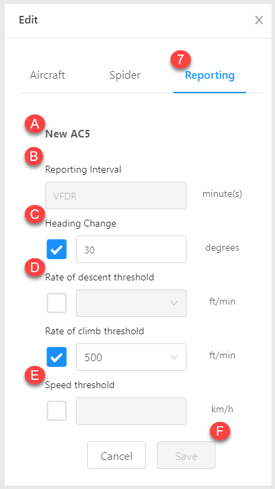 If you have added an Aircraft to you account in error, please see this article on how to remove the aircraft: How To Delete An Aircraft