The history page is where you can review the tracking.
The History Page is your complete flight tracking history.

1. Aircraft that the Spider is registered to.
2. Flight ID
3. Start Time and Date the flight took place.
4. Duration of the flight.
5. Shows the total Flight Distance.
6. SOS Status.
7. 3D Replay Availability
Flight Filters
The following filters will allow an account owner or account administrator to view the tracking history of aircraft in the account.

The filters allow the following;
1. Filter selection by date, by clicking in the date box.
2. Filter selection by aircraft, click the magnifying glass to display all the aircraft in your account.
3. Select to HIDE all 0-minute tracks.
4. Select to Hide all 0 NM flights
5. Filter SOS selection by Active or Closed.
*Please Note: to remove filters either clicking 'Reset' within the filter or 'clear filters' will remove selections.

Selecting Flights
1 / A To select flights to view on the map, check the flight box next to the track clicking View Flights, this will automatically open the selected flights in the map.

2. You can see how many flights you have selected for either viewing, downloading or deleting.
The 'Flights Selected' feature will let you know how many flights have been selected as well as a total for flight time and total distance.
The 'Total Flight Time' and 'Total Distance' shows the total hours and the total distance of the tracks selected.
3. Download will enable you to download your tracks in either:
CSV Summary is a summary of Flights with the information displayed in the History table. Unlike the current Track Detail download that displays data for every single position point received, users now have an efficient way to download the summary information needed to feed into their business operations and reporting.
CSV Detail Download full track in or CSV format.
KML File format for use in Google Earth
4. Delete - this will allow you to delete tracks. It will remove the selected flight(s) from all member in the organisation is you have administrator rights. If you don't have administrator rights, this will remove the tracks only from your history page.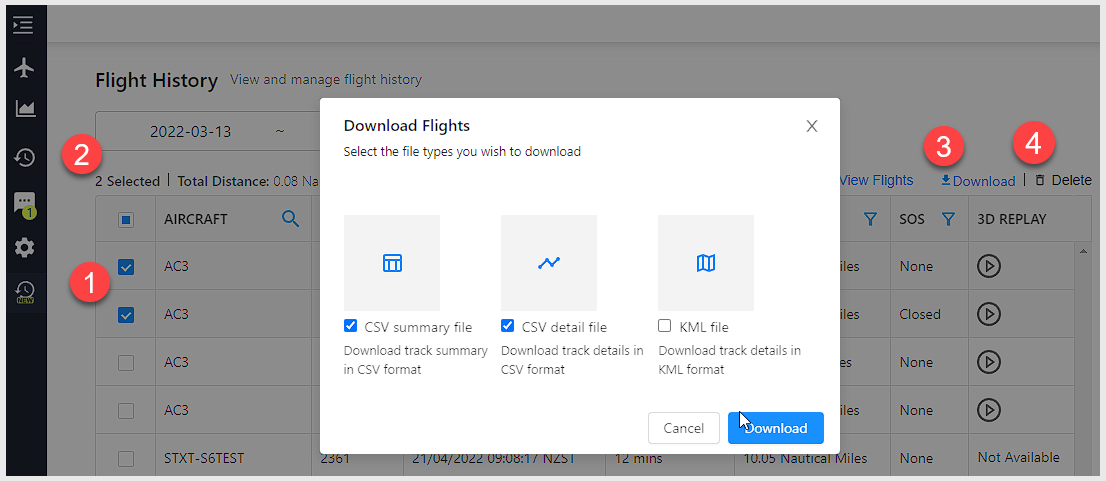 Please note, you can now select up to 200 flights.