History page is where you can review the tracking.
History Page Features
The History Page is your complete flight tracking history.

1. Aircraft Spider is registered to.
2. Time and Date the flight took place.
3. The Duration of the flight.
4. Shows the total Flight Distance.
Flight Filters
The following filters will allow an account owner or account administrator to view tracking history of aircraft in the account.

The following filters allow the following;
1. Filter selection by aircraft.
2. Filter selection by date.
3. Filter selection by any SOS occurrence.
4. Filters out all 0 minute flight points.
*Please Note: Clicking 'Clear Filter' will remove the selection.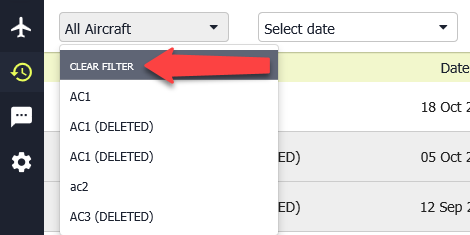 Selecting Flights
1. Put ticks in the boxes to select the flights
2. Clicking the Picture icon will allow you to view the selected flights on the map page.
3. Clicking the Download will enable you to download your tracks in either Google Earth or CSV format.
4. Clicking the Trash Can icon will delete the selected flights
5. The 'Flights Selected' feature will let you know how many flights have been selected.
6. The 'Total Flight Time' and 'Total Distance' shows the total hours and the total distance of the tracks selected.

*Please Note: It is only possible to select 50 tracks at a time.
Other Features
1. If the Public Page is enabled in your account, clicking the Padlock icon, will lock the individual track and hide it from public view.
2. The circled exclamation mark next to a track means an SOS was raised during the flight. If this icon is red, it means the SOS is still active, if the icon is grayed out it means the SOS has been resolved.
3. If the Aircraft has '(DELETED)' after its tail number, this means that the aircraft has been deleted from your aircraft list. Tracks are never deleted unless done manually by each user.
4. You can return to the personal settings page by clicking the person icon.