Flying page is where you can actively track your aircraft.
Flying Page features
The Flying page provides an overview of your fleet in real time allowing you to see the location of your fleet around the globe. There are a number of extra features included in this page that allow you to operate more safely and efficiently which are detailed below.
This is how the Flight Page looks: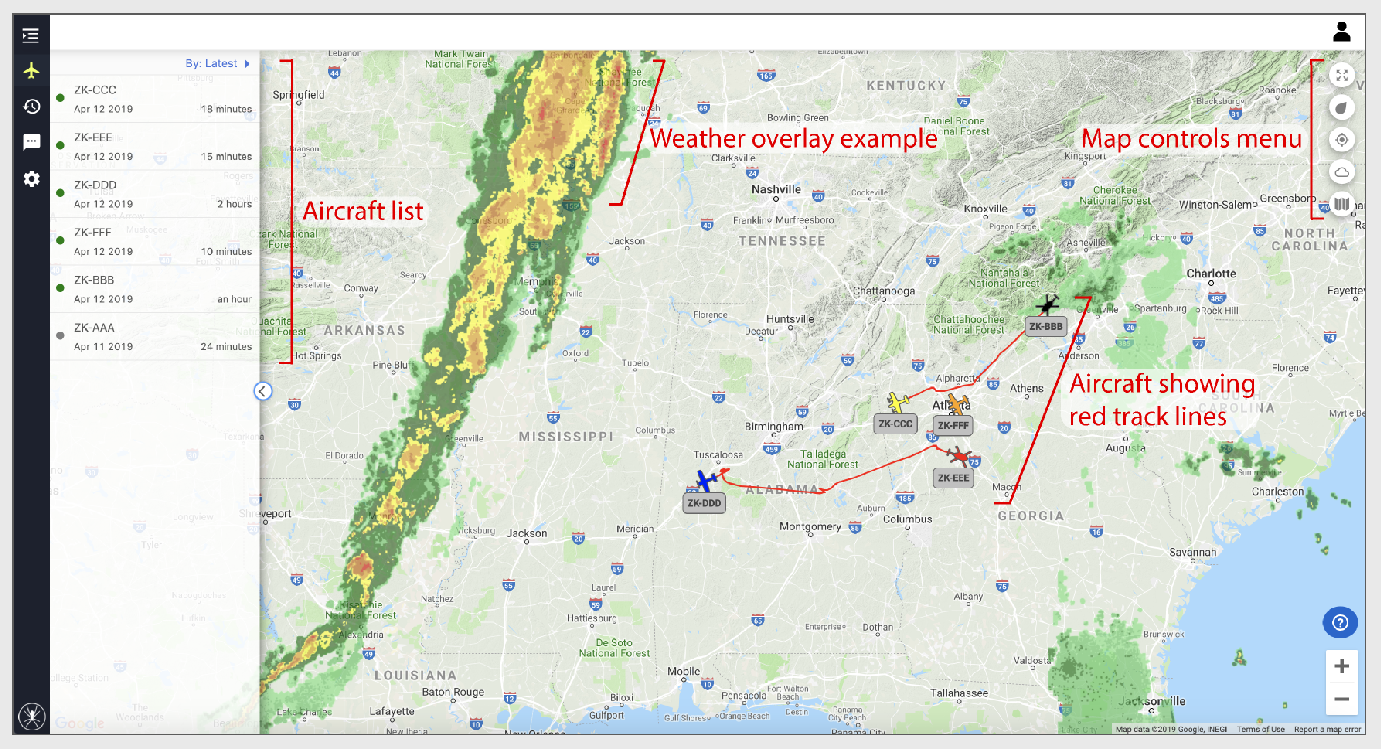 The following icons, are the main icons to help you navigate your account, these are found on the top left of the screen.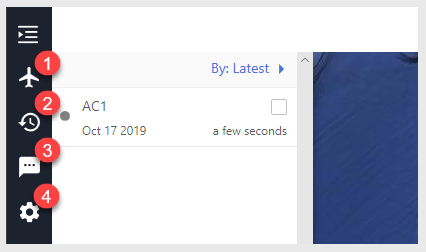 1. Flying Page - This is where Active flights are displayed.
2. History Page - This is where your flight History is stored
3. Spidertxt - Message Page, this is where your Spidertxt messages are displayed
4. Administration Settings - This will take you to your Organisations and allow you to manage your Spiders settings, aircraft and members.
Aircraft List
The aircraft list displays as follows: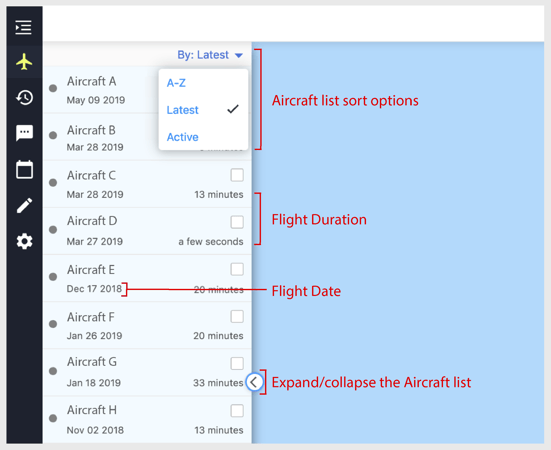 Sort Aircraft
You can choose which aircraft you want to see on the flying page by changing the sort type, there are three options:
Alphabetical - Arranges all aircraft in alphabetical order from 0-9 then A-Z
Latest - Arranges all aircraft in order from most recently received point to the oldest received point
Active - Shows only aircraft that the system has received a position report from within the last 15 minutes*


*Please Note: If your computer time is set more than 15 minutes ahead of the actual current time you may not see active flights
Map Control Features
The the right side of the screen you will find Personal Settings and the Map Control features.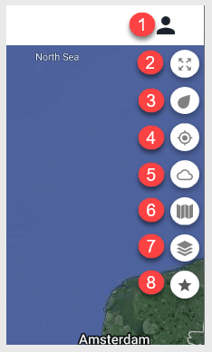 1. Personal Settings - Here you can change your email, password and map display preferences.
2. Full Screen- This increases the map to full screen. Simply press escape or click the full screen icon again to go back to the standard map view.
3. Track Display Options - Configure how tracks are displayed on the flying page.
Options to:
- Show red track lines on the flying page - allows you to show a red track line for each aircraft that shows the flight path of the most recent flight
- Group points; Groups similar points when viewing a track in order to de-clutter the track view as you zoom in and out on a track
4. Center Map - Clicking this centers the map on the last reported location of all aircraft selected in the aircraft list.
5. Weather - Opens a menu containing a range of real time weather overlays that can be added to the flying screen. Only one weather overlay can be selected at a time. Clicking the clear button will remove any weather overlays from the flying page.
6. Map View - Opens a menu containing a range of base layer map views. You can choose from the standard Google map views (Map, Satellite, Terrain, Hybrid) and aviation specific map views (VFR, IFR High, IFR Low and Basic). Only one map view can be selected at a time.
7. Map Layers - If you have added any KML layers to your account they will appear in this menu. You can add as many KML layers to the flying page as you desire, please note that the more layers you add the longer the page will take to load.
8. Favourites - Save locations on the flying map so you can quickly load them in the future.
Maximising Screen
To maximise your screen, you can click the 3 following menu icons to increase the map size.