Systems Status Page
If you would like to check Spidertracks current or historical service status updates please visits our System Status page.
Spidertracks Heartbeat
You can also look at the map below. If the position reports for our Heartbeat units are green, this means we are online.
Twitter Support Updates
If you're interested in receiving tweets regarding any support announcements that spidertracks produce, you can follow us on Twitter @stlsupport.
We will tweet any serious issues we have and keep you posted about what we are doing about them. You can also report issues with our website using @stlsupport and we'll receive these and get onto them straight away.
Flying Page Alerts
During an outage we also will display a Service Status message on the flying page: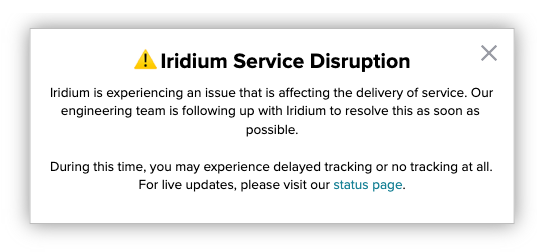 This message is displayed at the Top Center and can be removed by clicking the X.