We have an API available so third-party consumers can retrieve raw data from our system
Third party consumers can configure either a public or private data service to pull the raw data.
If you are set up as a public consumer, Spidertracks customers' can elect to send you their track data.
AFF User Consumer Guide - XML
The following guide covers integrating with the spidertracks API / AFF feed. The data in the spidertracks AFF response, how to query the feed, and how to setup an AFF feed in the spidertracks website are all covered. Examples of querying the feed, including code, requests, and responses are all provided.
When filling out the API Form
The contact email that is written in the request form, will be the email that you will use for retrieving raw data from our system.
The organisation wanting to use the API will also need to
add this email to their account as a member
, this will send you an invitation email that will automatically link you to their account.
After the 3rd party API is set up, a further feed option will appear, please look for 'Private AFF Consumers'. This will need to be selected and activated for the correct aircraft.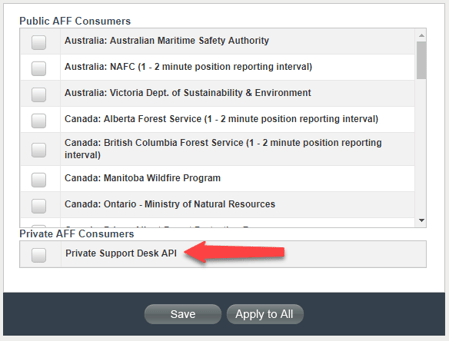 Please Note: All AFF feeds have now been filtered to only show the latest report in any two-minute interval with the exception that all non-standard tracking points are always sent e.g. watch, mark, SOS, fire events etc.
This filtering update satisfies the AFF requirements to send at least one report every two minutes.
Please see the following support page on how to:
Please note, this is currently a free service, however this may change and fees may apply to use the API.